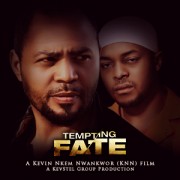 Hollywood meets Nollywood. The highly talked about and "must see" film "Tempting Fate" opens in Theaters July 17TH
Lawrenceville, Georgia, May 8, 2015 (Newswire.com) - KevStel Group Productions has just announced that the moving and riveting film, "Tempting Fate", will be released by Silverbird Film Distribution (W.A.) Ltd., in multiple top quality theaters in Nigeria.
The highly talked about and "must see" film "Tempting Fate" stars Nollywood movie icon Ramsey Nouah who plays the part of Ugo. He is one of two brothers who are portrayed in the film following two very different paths in life. Ugo finds the life of crime appealing and is encouraged to do so by Scorpion, the gang leader characterized by the much acclaimed Hollywood actor Dan Davies. Edu is the calm devoted Christian brother of Ugo, who is afflicted with a life threatening illness. Edu is portrayed by debuting upcoming Hollywood actor Andrew Onochie. John Vogel provides an amazing performance as Detective Travis. The upcoming star studded cast consists of Tiffany Denise Turner as Tracey, Edu's girlfriend, along with many other exceptional actors and actresses.
"I do not want to Kill you, not because I like you but because you owe me.

Scorpion , Tempting Fate
"Tempting Fate is directed by Kevin Nkem Nwankwor (KNN), who is making his directorial debut and is joined by Director of Photography Sulekhh Suman. Filmed in Hollywood using state of the art technology and supported by Panavision, red. Executive producers are Emmanuel Ojeah and Unoma Nwankwor. The Nigerian Premiere is Supported by Four Points by Sheraton, Silver Bird TV, Cool FM, Cool TV, Rythm FM, WAZOBIA FM, City FM, NTA Entertainment, NTA 2, AIT, Wazobia TV, UNILAG FM, Rainbow FM SWAM beauty, Nanet Suites and Event managed by Event Le-Guv .
Silverbird Film Distribution(W.A.)Ltd. is proud to be releasing "Tempting Fate" at these fine theater locations beginning July 17TH , 2015
1 SilverbirdCinemas, Galleria,VI V/island Lagos
2 Silverbird Entertaiment Centre Abuja
3 Silvebird Cinemas, Port-Harcourt Port-Harcourt
4 Silverbird Ceddi Plaza Abuja
5 Silverbird Cinemas, Ikeja Ikeja
6 Silverbird Cinemas ,Uyo Ibom tropicana
7 Silverbird Accra Mall Ghana Ghana
8 Silverbird Weija,Ghana Ghana
9 Silverbird Cinemas,Warri Warri
10 Genesis Deluxe Cinemas Lekki Lekki Lagos
11 Genesis Deluxe Cinemas,PH Port-Harcourt
12 GenesisDeluxe Cinemas Enugu
13 Ozone Cinemas Yaba
14 Kada Cinema Benin
15 Film House Lagos Surulere Lagos
16 Film House Calabar Calabar
17 Film House Heritage Mall Ibadan
18 Film House Samonda Ibadan

The Soundtrack for "Tempting Fate" is also available now at Amazon.com. This soundtrack is compiled by gifted performers such as Folorunso Obilana, Pedro Gonzalez Arbona, and Daniel Berk, along with featured artist Jacobed Melgarejo.
Share: