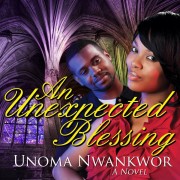 The producer of "Tempting Fate" announces her collection of her Christian based books available on Amazon
Lawrenceville, Georgia, May 5, 2015 (Newswire.com) - Unoma Nwankwor is widely known as a published author for exceptional portrayal of what Christianity truly stands for. Her collection of novels offer intriguing and heartwarming Christian stories of faith and romance both in short and long versions.
Her many fine writings have been referenced at the Africa Book Club, USA Today as well as many other radio shows and blogs.
#Fusing Faith, Romance and African Spice.
Unoma has written and published "An Unexpected Blessing", The Christmas Ultimatum", "When You Let Go", and just recently, the literary world was introduced to "A Scoop of Love."
Unoma can be quoted from her blog as saying, "The year I decided to obey God and walk in my purpose, I knew immediately what my characters would look like. I mean their stories are all fictitious, for me at least, but the core of their story would all be centered on one thing…HOPE & RESTORATION."
The author's followers and readers have been known to describe her books with sayings like… "this story flies off the pages", or …"definitely a page turner".
Unoma possesses a passion and a writing skill for showing the world the foundation of what walking through life as a Christian can accomplish, and it is easily understood as to why she would play an important role in the production of the new and riveting film "Tempting Fate."
"Tempting Fate" is film that depicts what life can throw at anyone, but how the choices made can change a person's destiny forever.
When looking for an author that can reach out with their words to reach the very depth of a person's soul, then it means not missing a chance to buy any of the books that Unoma Nwankwor has published to date, and they are easily accessed at amazon.com
Don't wait to feel the love and enjoyment of the intriguing journeys that Unoma is waiting to provide through her publishing's. Go to Amazon now and order now. In Nigeria, her books can be found at Patabah Books located at B18 Adeniran Ogunsanya Shopping Mall, Surulere, Lagos, Nigeria
About the author:
Born in Akron, Ohio to Nigerian parents, Unoma spent her childhood and early adulthood years in Port-Harcourt, Nigeria. She is the COO of KevStel Group LLC; a faith based Entertainment Company aimed at providing uplifting and life changing entertainment through its movies and books.
Her readers are in love with her unique way of telling stories that capture the essence of her present home base; Atlanta Georgia and her Nigerian culture. Her stories which center on forgiveness, faith and hope have been described as a fusion of faith, romance and African spice.
Share: